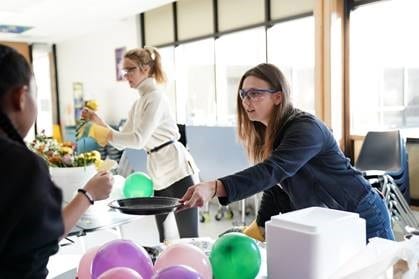 Aurora Storrer and Emily Anderson make freeze-dried potato chips and marshmallows for sixth graders during a science show at Madison Middle School Thursday in North Platte.
The show was organized and orchestrated by STEM Club members from Mid-Plains Community College for students in Madison's High Ability Learner (HAL) program. The show included several activities centered around the science of chemicals and materials.
Students learned about the number of calories in a gummy bear, how soft drinks get their fizz, what happens to air at -330 degrees, the power of pressure and iron in breakfast cereal. STEM Club is made up of MPCC students and staff dedicated to promoting and supporting education in science, technology, engineering and math. More information about the club and its activities is available through STEM Club Advisor Jared Daily at dailyj@mpcc.edu or at (308) 221 – 64324.